Feel that PC starts up slowly, and experience delay in launching software? UniBlue DiskRescue 2009 is a powerful utility software that perform to fragmentation the PC hard disk for maximum performance. DiskRescue 2009 comes with contemporary, intuitive and user-friendly interface. With UniBlue DiskRescue 2009, any users can performs a full and quick scan for hard drive to improve the performance, faster data storage and retrieval, and reduce startup time of a computer. DiskRescue combines clear controls with a powerful disk defragmentation engine and defrag scheduler to improve disk read/write speeds, and computer bottom line performance. It also be able to searches entire hard disk mapping for location of all data and every single file, then brings back together the broken and fractured files into contiguous space.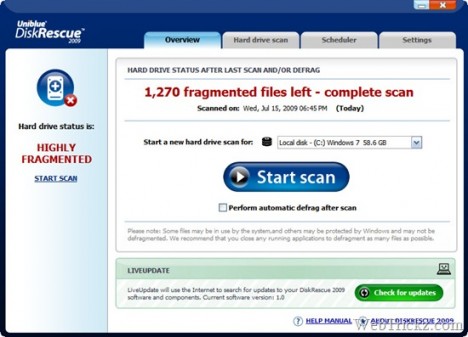 Features of Uniblue DiskRescue 2009
Powerful disk defrag engine
Speed up and optimize
Detailed scan results report
Schedule scans and defrags
Windows familiar GUI
System overview and recommendations
In depth analysis
System tray shortcut
Safe and trusted
LiveUpdate
Compatible with Windows Vista/XP
The trial version of UniBlue DiskRescue only provides the scanning and results but in order to take an action like defragmenting the files fragmented, users need to purchase the full version at liutilities.com (aff) which normally costs $29.95. The full version also allows users to schedule automatic hard drive scan and defrag at a given time to optimize the speed of computer.
However , as part of promotional offer from APC magazine Australia and other software sites. Interested users now can have genuine UniBlue DiskRescue 2009 valid full version license, just follow below steps:
Go to this http://mag.uniblue.com/apcmag/au/signup/ to register and generate the license key.

Alternative: http://mag.uniblue.com/softpedia/dr/signup/

Fill in the form by entering your name and email address. Once it is done, just click the "Submit" button.
You will receive an email message which has all the information such as download link of the software, serial number for 1 year validation and installation instructions. Copy the key and keep it in somewhere else.
Download and install UniBlue DiskRescue 2009 setup installer.
After completing installation of UniBlue DiskRescue 2009, you will be asked to register the license key.
Click "Register Now" button in the bottom left of the program window, the registration screen will then be shown.
On the Registration Wizard screen, enter the key which you have copied and saved at step 3 then click on "Activate Now" button.
UniBlue DiskRescue 2009 will prompt you that it will restart to access its full functionality.
Click "Finish" button to complete the license key registration.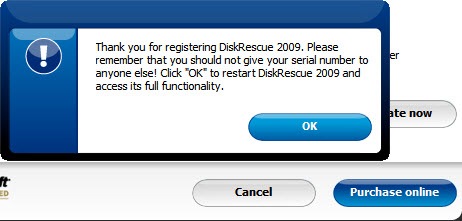 The UniBlue DiskRescue 2009 free full version license includes 12 months of Active Protection (product upgrades and support).