Posted:
November 25, 2009
/
Under:
Operating Systems
/
By:
My Digital Life Editorial Team
RegistryBooster from UniBlue (liutilities.com) is an registry cleanup, defrag and optimization software to improve PC performance, stability and general health by removing and deleting residual files, unused or stagnant drivers, and corrupted or bad registry keys. The new version of RegistryBooster 2010 features a brand-new GUI, supports 32-bit (x86) and 64-bit (x64) Windows, and is compatible with Windows 7, Vista and XP.

Key Benefits and Features of RegistryBooster 2010 (aff):
Clean missing, unwanted, obsolete and corrupt registry entries to boost performance, improves start-up time.
Repair registry problem to improve computing experience and minimize application seizures, system errors and crashes.
Highly intuitive, attractive, logical and user-friendly graphical user interface.
Improved scanning engine to scan for more sections within the registry.
Ignore List to exclude registry section and path from the scan.
Log and display a transcript of all the actions performed on the registry by a particular fix operation.
One-Click registry restore.
Automatic backup during scan.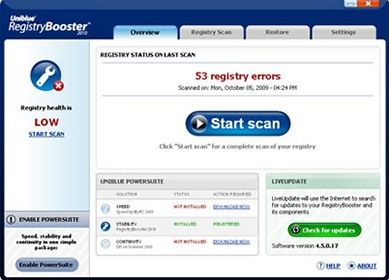 User can download RegistryBooster 2010 trial version (aff) which provides free stability scan that give users a complete diagnosis of Windows registry, identifying errors and conflicts, and fixing 15 of the problems found.
Each license of RegistryBooster '10 costs $29.95 for 1 year's subscription (aff). Thanks to the sponsorship from the developer, My Digital Life has 10 copies (licenses) of UniBlue Registry Booster 2010 to give away, completes with serial key number and 1 year of active protection for product upgrades and support.
To win one of the UniBlue RegistryBooster 2010 activation serial key license, just post a comment with a valid email address in the "Mail". Entry closed on December 1st, 2009 at 23:59 server time (UTC+8), which is also the timestamps printed with the comments.
Giveaway CLOSED. Winners are Free key please, RandyP, hideipuser, Otto, hafiz, Renaldo Minjarez, YASER, Alex, Dennis and Anas.
Winners will be selected via random lucky draw to receive the registration serial number to activate the full version of UniBlue RegistryBooster 2010. No limit on number of entries (number of comments) allowed, but each participant is entitled to win one license of Registry Booster 2010 only.
My Digital Life's decision is final, and My Digital Life reserves all rights to change any terms and conditions without prior notice. Do check out more free giveaway available at My Digital Life.