UniBlue SpeedUpMyPC 2009 is the latest speed-up utility software which combines a wide range of specialized level tools that exclusively target computer system performance optimization, tools to protect privacy and hard disk cleanup.  The SpeedUpMyPC is designed totally for both monitor computer and thoroughly scans for and correct issues that may be slow down start up and general operation. Besides, system settings, internet usage, disk clutter, RAM and CPU are all automatically scanned, cleaned and optimized for peak performance. It reduce hard disk clutter by finding and deleting unnecessary and obsolete files. In addition, it also be able to optimize users network and internet connections to boost bandwidth that allowing users to enjoy faster surfing and quicker downloads.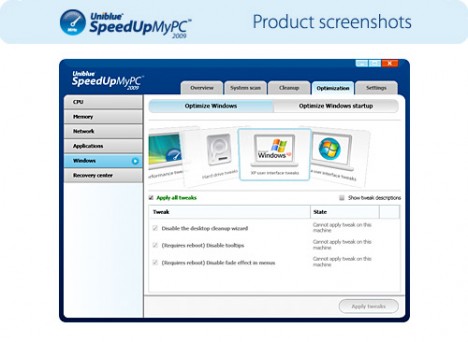 Features of UniBlue SpeedUpMyPC 2009
Superior performance from your PC
Maximize Internet settings for faster browsing
Enhanced Security and Privacy Features
Detailed metrics on system performance
Automatic optimization and cleanup
Quarantine manager
CPU profile management
Recovery center to undo changes
System Overview and Recommendations
Automatic Performance Scan
Advanced GUI features
Safe, simple and trusted
LiveUpdate
Requirement Microsoft .NET framework 3.5
Compatible with Microsoft Windows XP or Vista (32-bit)
For users who miss out the UniBlue SpeedUpMyPC 2009 free serial number giveaway, it's now possible to have UniBlue SpeedUpMyPC 2009 installed on your PC, with genuine license which is free for 1 year! The license includes free 1 year of Active Protection (product upgrades and support).
UniBlue SpeedUpMyPC 2009 normally cost $29.95 for purchase. You can get the trial version (aff) but it is only last for 30 days. If you would like to have genuine UniBlue SpeedUpMyPC 2009 valid and free for 365 days, just follow below steps:
1. Go to this http://mag.uniblue.com/camag/uk/sp/signup/ to register and generate the license key.
2. Fill in the form by entering your name and email address. Once it is done, just click the "submit" button.
3. You will receive an email message which has all the information such as download link of the software, serial number for 1 year validation and installation instructions. Copy the key and keep it in somewhere else.
4. Download and install UniBlue SpeedUpMyPC 2009.
5. After completing installation of UniBlue SpeedUpMyPC 2009, you will be asked to register the license key.
6. Click "Register Now" button in the bottom left of the program window, the registration screen will then be shown.
7. On the Registration Wizard screen, enter the key which you have copied and saved at step 3 then click on "Activate Now" button.
8. SpeedUpMyPC will prompt you that it will restart to access its full functionality.
9. Click "Finish" button to complete the license key registration.
Once you have gotten above steps done, you are entitled to have genuine UniBlue SpeedUpMyPC 2009 valid for 365 days!
Update: Free UniBlue SpeedUpMyPC 2010