Remember our post about clocks that depict sexy sweet young things telling the time? If Bijin appeals to you, the UNIQLOCK is not any less interesting. Looking at the face of a clock which never changes can be pretty boring, so UNIQLOCK is a new concept clock which fuses time display functions, music and dance video in an entertainment and functional package. This widget gives new meaning to staring at the clock.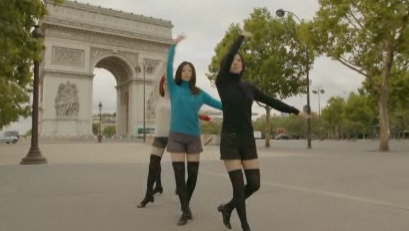 The video sequence intersperses with the clock display every five seconds, making for a cool and active clock. The random video scenes provide suspense and excitement. The pretty dancers in the video present UNIQLO clothing line 24/7 and change according to the fashion of the season – POLO shirts in summer and cashmere sweaters in winter. There is even a special dance routine every hour. While changing to the clock display, the full screen video display is given time to reload. Rhythmic music seamlessly binds the time counting and video together. This unique clock can be embedded in your blog, Facebook, iGoogle, etc. It even has an alarm function. The UNIQLO clock aims to give users a unique experience and bring some fun and music into your routine life. The slogan reads, UNIQLO CLOCK, UNIQUE CLOCK, UNITED CLOCK.
To embed UNIQLOCK into a blog, users can go to the main page, move the mouse to "Menu" and select "Blog Parts". Users can thence select the city, clock size and music on/off. Once the selection is made, click "Set" to get the embed code.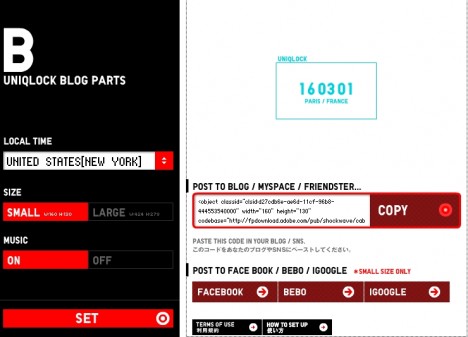 Example: