The social networking site, Facebook, has been developed and upgraded from time to time to make it more accessible and user friendly. It offers various instant ways for users to update their profile and upload their photo via their mobile phones. Besides using cellphone, Facebook enthusiasts who are eager and desperate to upload or add photos and videos but can't access them due to access restriction imposed by the company on social networking sites can do so via e-mail services.

To upload a photo or video to your Facebook account directly via email, users would of course first of all need to sign in their Facebook account, and then click to mobile to go to "Facebook Mobile".

Look for "Upload Photos via Email" section. Click on to "Send my upload email to me now"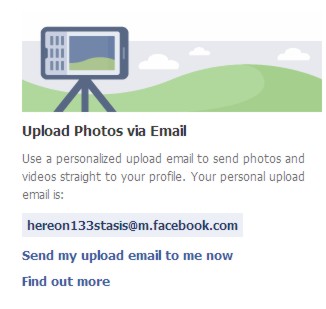 Users will thence be prompted a dialogue box. Enter the appropriate email address that you want to use it for sending photos or videos.


Users will receive a confirmation email from Facebook to notify users that they can upload photos or videos straight to their profile via email.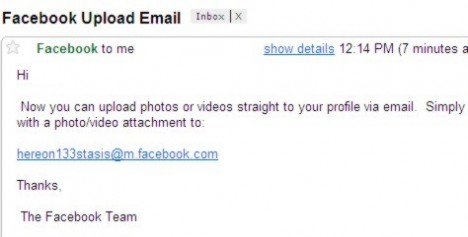 Users can now compose an email and attach the photo or video which they want to upload to their Facebook profile. They can add the caption pertaining to the attachment using the subject line. By default, the photo or video clip that uploaded to the users' account is public. Users can thence change it to private accordingly.