Nowadays, most of the mobile phones which are available in the consumer market have been featured with a camera and GPS. Panoramio has take this advantage by created a Panoramio iPhone app for iPhone users who enjoy sharing photos of places with the rest of the world.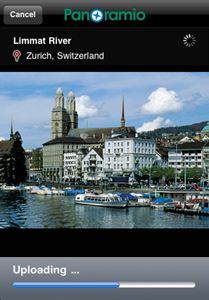 With Panoramio iPhone app, the users can easily upload their favorite photos straight from their device. Once upload to the Panoramio, the photo will surfaced in Google Earth and Google Maps as photo layers, where millions of users can enjoy them.
The Panoramio iPhone app has been designed to allow users to choose photos from their iPhone or capture the new one and upload directly to Panoramio. The application is also able to set the photo's geoposition automatically if available. Beside that, the users can add a title to their photos.
For those iPhone users who interested on this app can download from Apple App Store. However, Panoramio app for Android-powered devices is expected to be available soon.