MegaUpload and SexUploader users who are not from United States may be frequently encounter an access denied message that says "All download slots (xxx) assigned t your country (Country Name) are in use. Please try again later." when trying to download a file from a URL http://www.megaupload.com/?d=XXXXXXXX. With millions of people and web surfers in a country, the scandalously low download slots available to each non-US countries is obviously to force to upgrade to premium with fee, who otherwise won't generate enough revenue for MegaUpload or SexUploader with online advertisements.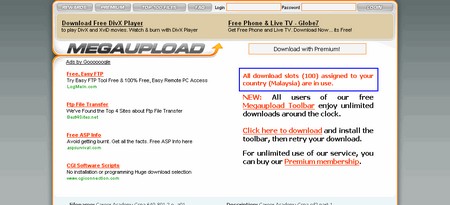 Now you no need to worry too much of limited download slots for your country, if you're using Mozilla Firefox web browser. An extension has been created to get free slots from MegaUpload and/or SexUploader (aka Megarotic) whenever you need it. The extension add-on for Firefox is Megaupload SX.3.2.
Once you download and install Megaupload SX.3.2 and restart the Firefox, go to Tools menu, turn on and enable the plugin before you click on any Megaupload or Sexuploader download link. Once the download has started, you can safely de-activate the plugin by disabling it from the same menu.