Veoh Networks and SanDisk have announced the launch of the portable video player that initially just available on SanDisk Cruzer USB drives – Veoh Web Player for SanDisk, allowing the users to browse, search and enjoy millions of videos on Veoh.com, including TV shows, movies, web series and popular independently-produced content.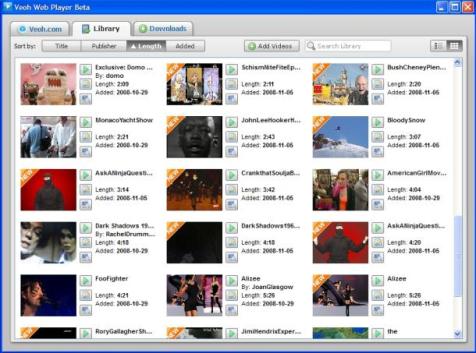 "The Veoh Web Player is a perfect companion for SanDisk's Cruzer USB flash drives because our customers often want to watch videos when they're away from home and it often isn't possible to install software on the computer itself," said Yaniv Lavi, Director of Product Marketing for the consumer retail business unit at SanDisk. "Our SanDisk Cruzer USB Drives are ideal for watching and downloading videos because they come in capacities of up to 16GB, are technologically capable of streaming high definition content and come equipped with security features that help protect user privacy."
According to the release, "When permitted by the publisher, users can schedule downloads of videos to their library to watch later or at another location. U3 Smart technology, which was developed by SanDisk, allows applications to run from a SanDisk Cruzer USB flash drive, without having to be installed on a computer."
"SanDisk's reputation for innovation in flash storage devices and portable applications makes them the ideal distribution partner to make Veoh's extensive Internet video services more portable for our viewers," said Joshua Metzger, Senior Vice President of Corporate Development for Veoh Networks. "SanDisk Cruzer USB flash drives are ideal for video and Veoh.com users. This partnership puts Veoh in their pocket – so videos are ready to enjoy whenever and wherever they plug in."
For those who already purchased SanDisk Cruzer, the download of the Veoh Web Player is available for free at www.sandisk.com/veoh.