The nation's most reliable wireless voice and data network, Verizon Wireless has announced the availability of the new Samsung Sway (Samsung SCH-U650). As what you see in the photo, it's the stylish and slim slider phone with a silver finish.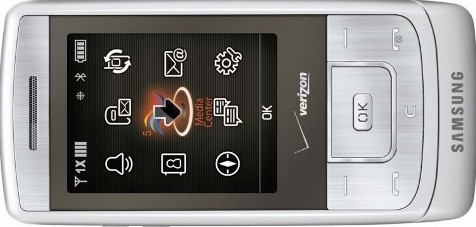 According to the company, "Verizon Wireless customers can use the Sway as an MP3 player to access more than 5 million songs that can be side-loaded from their PCs to their phones with a USB cable using V CAST Music with Rhapsody. Most music downloaded onto the PC using V CAST Music with Rhapsody is free of digital rights management software, which means the music can be played on multiple devices."
Highlights of Samsung Sway from Verizon Wireless:
2.2-inch QVGA (240×320 pixel) screen display
2 megapixel camera with NightShot
Media Center-capable – downloadable games, ringtones, wallpapers, location-based services and more
Mobile Web-capable – customizable, enhanced wireless access to the latest in news, sports, weather and more
Mobile IM (instant messaging) capabilities
Text, picture and video messaging
Bluetooth profiles supported: headset, stereo, hands-free (car kits), serial port, object push for vCard and vCalendar only, basic imaging, basic printing and phonebook access profiles
Bilingual interface in English and Spanish
External microSD card slot (up to 8GB)
Usage time: up to 270 minutes ; Standby time: up to 312 hours
The new Samsung Sway slider handset which measures 4.15 x 1.96 x 0.47-inches will hit Verizon stores on October 14 for $69.99 after a $50 mail-in rebate with a new two-year contract.