The well-known wireless telecommunications network in the United States, Verizon Wireless has launched the new Visual Voice Mail application that provides customers a new way to manage their voice mail messages, currently only available on LG Voyager.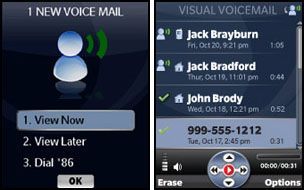 According to Verizon Wireless, "Visual Voice Mail allows customers to see a list of all of their voice mail messages with important information, such as date and time of receipt, as well as message duration, in order to prioritize and efficiently manage their voice mail messages directly from their phones. When a caller leaves a new voice mail message, the Visual Voice Mail application pops up, alerting the customer that a new voice mail message has been received. From the phone display, customers can select from a number of options, including call back, reply, forward, add to contacts, and archive message (to internal or external memory). Customers can store up to 40 messages for 40 days – double the storage capacity and nearly double the retention time of Basic Voice Mail. In addition, customers can create up to 10 greetings, as well as up to 20 distribution lists and 50 distribution members to receive messages."
"Verizon Wireless recognizes that voice mail plays a large role in how customers conduct business and manage the balance between their personal and professional lives," said Mike Willsey, executive director for marketing, Verizon Wireless. "With Visual Voice Mail, we're able to offer customers more options to help them better prioritize voice mail messages from family, friends, colleagues, and business partners in a more timely and effective manner."
The Visual Voice Mail costs you $2.99 a month per line and expects to be available on more mobile devices in the coming months.