Verizon Wireless has announced the launch of the third-generation of the iconic Chocolate music phones – LG Chocolate 3, which supports V CAST Music with Rhapsody subscription music service, allowing the customers to access more than 5 million songs, create playlists and transfer music to their phones wherever they go.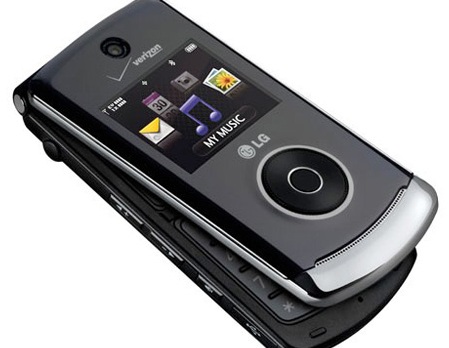 "We are proud of the success and popularity of the Chocolate series of handsets, and are excited about the upgrades made with this new edition," said Mr. Ehtisham Rabbani, vice president of product strategy and marketing for LG Mobile Phones. "The LG Chocolate 3 helps Verizon Wireless customers minimize the number of electronic devices they need to carry at one time, allowing for a large capacity of music storage and connection to a car stereo without any wires."
Features And Capabilities Of LG Chocolate 3:
2.2-inch QVGA TFT (320×240 resolution) screen ; 1.76-inch exterior screen (176×220 resolution)
2 megapixel camera and camcorder
Music player that supports .mp3, .wma, unprotected .aac and unprotected .aac+ files
Mobile Web-capable – customizable, enhanced wireless access to the latest in news, sports, weather and more
Mobile Email – access MSN Hotmail, America Online and Yahoo! accounts to exchange e-mail
VZ Navigator-capable – get visual and audible directions to thousands of destinations, locate businesses and other points of interest, get maps of a location and share directions with others
Media Center-capable – downloadable games, ringtones, wallpapers, location-based services and more
Mobile IM capabilities
Chaperone Child-capable – allows the LG Chocolate 3 to have its location shared with family members via the Chaperone Web site, the Chaperone Parent application or Child Zone SMS alerts
Bluetooth Version 2.1 + EDR (Enhanced Data Rate)
One-touch speakerphone
Speaker-independent voice commands
Voice-activated dialing up to 1,000 entries
Flash user-interface for clear images, text and fun animations
Simultaneous GPS for enhanced location accuracy
Integrated FM transmitter enabling customers to play music through a car or other stereo system, dual speakers and Bluetooth headset for wireless stereo sound
Supporting Verizon's high-speed EV-DO network for robust Internet experience
According to the release, "The LG Chocolate 3 is the first Verizon Wireless phone to feature Dashboard, a graphically rich portal powered by Adobe Flash Cast technology, which delivers personalized multimedia information and entertainment services directly to the phone. Dashboard features 13 channels – Mobile Web, VZW Showcase, Get Channels and Search, as well nine more to customize the wireless experience. Verizon Wireless customers can select from News, Community, Comedy Central, MTV News, IGN.COM, FOX Sport, Tones & Extras, Sports, ESPN, Music, Entertainment, Weather, Business, and Games channels to appear on their phones."
The new LG Chocolate 3 flip style music phone which can support up to 270 minutes of usage time or up to 350 hours of standby time will be available starting July 13 for $129.99 after a $50 mail-in rebate with a new two-year contract.