GPS (Global Positining System) is quite common in today's consumer market and it has become one of the must-have companion while you are traveling on the road. Typically, it is designed with accuracy of longitude and latitude captured data and once the coordinates are cross-mapped with a detailed map database, it will be so useful that able to guide consumers to reach their destination without miss. Just recently, Vexia has just unveiled an additional model under its Econav family that hopes to drive eco-friendly initiative. Named as Econav 435, it is not only featured with basic GPS functionality, but is also enhanced with additional features that can estimate the most economical route based on some basic input data from drivers.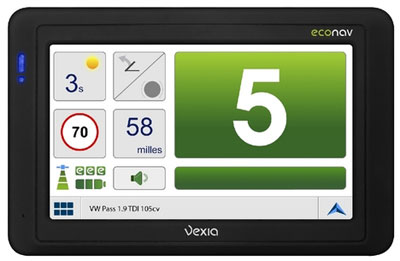 The Econav 435 is built with a standard 4.3-inch touchscreen LCD panel that allows data input from drivers for proper calculation on the best route. On top of conventional data entry like destination, users will be prompted to enter additional data such as the number of passengers, vehicle models and etc so that these will be taken into consideration when computing the best economical route. Good thing is, the GPS device is claimed to be intelligent enough to inform users if they are stepping on the right gear or driving on the right speed for best optimum fuel consumption. Based on average estimation, the eco-friendly device is claimed to be able to conserve up to 33% of fuel consumption that attributes to cost saving of 400 annually for petrol expenses alone.
Priced at 169.99 for UK version and 219.99 for Europe version (with map), Econav 435 will be commercialized by next month in Europe market. However, no plan on the availability and launching date in other geographical locations yet.