Vexira Antivirus from Central Command is a easy to manage comprehensive virus defense solution for Microsoft Windows, which also provides anti-virus solution to Samba, Linux, Novell, Solaris, FreeBSD, OpenBSD, AIX, GroupWise, various mail server (supports Sendmail, Milter, Postfix, Qmail, Courier, Exim, and SMTP Relay). Vexira Antivirus for Windows can be used to protect a single home computer, a small office network, or an enterprise with thousands of workstations and servers.

Vexira Antivirus protects desktops, workstations and laptops against viruses and malicious programs in real-time. It defends both local and mobile workers for maximum system availability and performance with reduced downtime due to virus attacks and includes integrated Microsoft Outlook and Office virus protection. The Vexira Antivirus technology protects against viruses, worms, trojans, adware, spyware and hostile ActiveX and Java applications.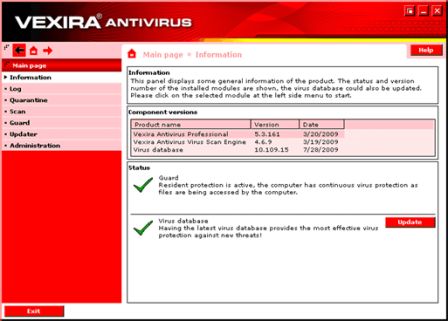 Features of Vexira Antivirus
Multi-platform, multi-tier, enterprise-wide vrus protection
Can be centrally managed, updated and deployed
Low system requirements
Industry leading and innovative virus protection technology
Easy to use with simple installation and deployment
Configurable virus protection policy enforcement
Complete coverage by scanning Internet downloads, floppy disks, e-mail attachments, network drives, shared files, CD-ROM, online services, ZIP drives, tape backups
Complete automatic updating
Low total cost of ownership (TCO)
In fact, now everyday can grab a copy of Vexira Antivirus with total cost of zero (0), which normally costs $34.95 for a year of subscription. As part of promotion with Akron Beacon Journal, Central Command is giving away a genuine license of Vexira Antivirus for Windows with valid and legitimate registration serial key code. The registration data is valid for one year from June 28 2009 to June 28 2010.
To get your free copy of Vexira Antivirus, firstly download the Vexira Antivirus setup installer using one of the following direct download link:
Windows 98/ME/2000/XP: winprof.exe
Windows Vista (32-bit): winprof.exe
Windows Vista (64-bit): winprof.exe
The run the setup installer to install Vexira Antivirus Professional. The setup wizard will prompt to enter registration data. Enter the following registration information (click on radio button of "Enter registration data" instead of "Activation or registration later"), as provided by promotion page at http://www.centralcommand.com/abj.html, to unlock the trial version of Vexira Antivirus:
User name: ABJ Reader
Registration key: ESKSU-UMREA-A8CBT
Continue with installation process, and the full version unlocked Vexira Antivirus Professional will be installed and protecting the computer. Vexira Antivirus for Windows supports Windows 98 Second Edition, Windows Me, Windows NT 4.0 Workstation with Service Pack 3 or above, Windows 2000 Professional, Windows XP Home and Professional and Windows Vista.