If you are a fan of VIA Technologies' solution, you will be delighted with the recent news related to its upcoming chipset. Codenamed as VN1000, it is a next generation digital media chipset that has been enhanced to support DirectX 10.1 suitable for multimedia desktop and all-in-one PC with greater entertainment experience and touch screen capability.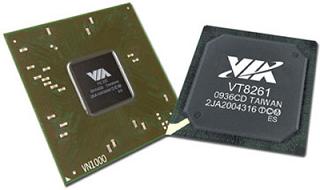 VN1000 is featured with proprietary Chrome 520 graphics engine that internally equipped with powerful 32 stream processors and four sampling units. Besides supporting DirectX 10.1, the chipset is also compatible to run with Shader Model 4, OpenCL 1.0 as well as OpenGL 3.0 suitable for Windows 7 Operating System environment as a visually enhanced and touch capable gaming machine. That is not all, VN1000 is also being enhanced with ChromotionHD 2.0 video processing to ensure smooth media playbacks on various famous formats such as H.264, VC1, WM9 and even on the Blu-ray technology with ability to perform hardware decoding and scale display resolution up to 1080p full HD (High definition). To make it a future proof solution, it adds an ultra high bandwidth DDR3 memory port (up to 1066MHz) and DisplayPort on top of current LVDS, HDMI, DVI and PCI Express interfaces.
Not intended to be used as standalone solution, board makers can choose to pair with Via Nano or C7 processor and further coupled with VT8261 south bridge, it can easily extend the usage model with additional interfaces such as USB 2.0, SD/MMC memory card slots, SPI, legacy PCI and LPC bus as a complete solution for system integration with a thermal envelope below 12W. No pricing and availability yet, we can expect to see the actual end products in the commercial market soon.