Previously we mentioned about VX855 with full HD media decode capability for netbook market and as an effort to upgrade its chipset to compete against Intel Atom solution, Via has just unveiled a next generation northbridge/southbridge combo chipset ready for consumer market. Named as VX900, it is an upgrade version of existing famous VX800 with re-architecture to support 1080p media playback with assisted hardware acceleration on top of other enhancements.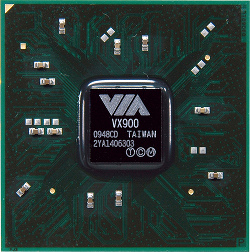 While the chipset is fully compatible to work with current Eden, C7 and Nano processors, it is specifically designed and optimized with newer Nano 3000 series processors to compete directly with Intel latest Atom processors in embedded space. And as expected, initial benchmarking results showed that the new Via combo has able to outperform Intel Atom N450 with Broadcom BCM70015 video accelerator especially in graphics performance, thanks to its built in ChromotionHD 2.0 video engine with hardware accelerator for various famous formats such as H.264, MPEG-2/4, VC-1, AVS, WMV-HD and even Blu-ray formats. To make it fitted well for different multimedia centric applications, it integrates CRT interface together with external display interfaces such as HDMI and DisplayPort as well as 12-bit DVP (Digital Video Output Port) to connect with multiple external HD display panels simultaneously. Other features include DDR3 memory technology support, embedded HD audio codec, Gigabit Ethernet, SATA interface, PCI-Express, legacy UART, PCI, SPI and all these are well designed into a 31x31mm package which is slightly larger than VX855 at 27x27mm size.
No pricing and availability yet, VX900 silicon is on sampling stage now and so you can expect the final products to be ready in commercial market soon.