Jamivoya's video downloader's VideoDownloader is an extension for Firefox web browser that allows video lovers who want to keep and download the videos to local storage for later playback or offline watching. With VideoDownloader extension, it's possible to retrieve and download the videos directly within then Firefox browser's window without then need to copy and paste the video-on-page's URL link location to Video Downloader's web page.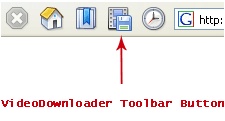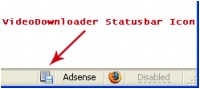 After installing VideoDownloader plugin for Firefox, Video Downloader adds a small icon on the status bar at the bottom of Firefox window, and a toolbar button. On the web page that contains that video you want to download to keep, just click on the icon on status bar or toolbar to download the video. What the video downloader add-on does is it opens "http://javimoya.com/blog/youtube_en.php" (where you can manually key in the URL to download the shared videos) and passes the URL directly to the VideoDownloader service withouth the need of copy and paste the link location.
Currently, the following video sharing and video hosting site are supported: Youtube, Google Video, iFilm, Metacafe, Dailymotion, Myspace, Angry Alien, AnimeEpisodes.Net, Badjojo, Blastro, Blennus, Blip.tv, Bofunk, Bolt, Break.com, Castpost, CollegeHumor, Current TV, Dachix, Danerd, DailySixer.com, DevilDucky, Double Agent, eVideoShare, EVTV1, FindVideos, Free Video Blog, Grinvi, Grouper, Hiphopdeal, Kontraband, Lulu TV, Midis.biz, Music.com, MusicVideoCodes.info, MySpace Video Code, Newgrounds, NothingToxic, PcPlanets, Pixparty, PlsThx, Putfile, Revver, Sharkle, SmitHappens, StreetFire, That Video Site, TotallyCrap, VideoCodes4U, VideoCodesWorld, VideoCodeZone, vidiLife, Vimeo, vSocial, Yikers and ZippyVideos. VideoDownloader add-on should work with any other webpage with embedded objects such as mp3 and avi too.
To use the VideoDownload extension for Firefox, you will need Firefox web browser which is supported on Windows, Mac and Linux. You can watch a video on how to the the VideoDownloader extension here. For more methods of downloading videos from embeded web pages visit here.
Get the Firefox from the button at the bottom of the sidebar to the right ->, and then get the VideoDownloader extension.