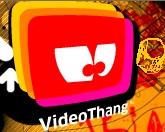 Working on a digital video but just couldn't figure out the complicated features in some video editing programs to finish your job? Well, probably you can try out this cool video editing tool, VideoThang. It is free, easy to use and features all the basic and necessary features to make your masterpiece look professional and outstanding.

VideoThang has released its latest version VideoThang 2.0 recently. Users can use this software to create, edit and enhance their videos. They can also share their videos with others online via the application. To initiate a digital video program, users can just load their videos, photos or music to this software. VideoThang supports various formats such as WMVs, AVIs, MOVs, MPGs, MP3s, JPGs, etc. Once you have uploaded the files to be inserted into your digital video, VideoThang will assist you slowly until your masterpiece is completed. Your Thang will look like a blockbuster – your photos can be made to fade in and out or move with wild and crazy effects! Add a caption and a title, and you are good to go. Once your movie is created, you can share it with others or post it to your blog/website. You could also upload to YouTube or other online platforms to bask in the limelight and reap the success from your effort.
Users can download the free video editing tool via the link here. The file size is 16MB. VideoThang works well with Windows Platform. You need 512MB RAM to run it. Other hardware requirements include:
• Hard Drive Space – 30 MB to Download and 300 MB-600 MB Runtime. Big videos need more space; although VideoThang will compress when you are editing, you still need some space to export and save.
• CPU – Intel Pentium 4 or equivalent
• 1 GHz Processor Speed – 1.7 Ghz is faster and better.
• Screen Resolution – At least 1024×768 – 16 bit.