VideoGet is a tool for getting and downloading favorite video clips from more than 100+ video websites. It supports such video hosting or video sharing websites such as YouTube, MySpace, Google Video, Yahoo Video, VSocial, DailyMotion, AnimeEpisodes.net, DumpALink, Glumbert, MetaCafe, PhotoBucket, Break.com, Uncut Video AOL and much more, including streaming services.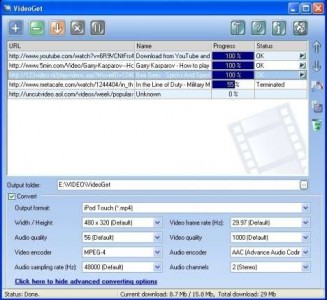 Most of these video websites are keeping video in FLV format, and a lot of people don't know how to playback these files. VideoGet also providing you with ability to convert each video in most popular formats for more comfortable video playback. VideoGet supports AVI, MPEG1, MPEG2, WMV, FLV, MP4, 3GP, MP3 file formats, so you will be able not only to view it, but also put it into your iPod, iPhone, Zune, PSP, mobile phones or any other portable device.
Furthermore user can customize video and audio quality, video frame rate, width / height and audio sampling rate. With VideoGet user can create a list with videos that want to batch download and schedule to download them later. These lists of video to download can be saved and load later. Here's a video that highlight the guide on how to make use of Video Get to grab, extract, download the embedded videos of online websites.
VideoGet also features one-click-download-convert with plugins for Internet Explorer and Mozilla FireFox browser. If Internet connection was terminated or lost while downloading large video file, VideoGet can resume broken download to continue from the point it's stopped instead of starting all over from beginning again. And, user can pause download process, move files up or down in queue as a standard download manager does.
For today only (June 3rd, 2008), Giveawayoftheday.com gives away free genuine license for VideoGet v3.0.2.39, the latest version of VideoGet. The license entitles user to use VideoGet forever with no restriction and expiry for unlimited times, as long as user doesn't reformat PC or reinstall Windows.
Download free VideoGet.
After downloading and installing the setup installer for VideoGet, register the software with the following registration license key:
XXXXXXXX-XXXX-XXXX-XXXX (serial removed on request)
For backup or future installation purpose, download the trial version setup installer from nuclear-coffee.com. Press on the red enter license key button on program's interface to enter the product key to remove trial 20 downloads limits.