World Expo 2010 Shanghai China is the largest world's fair which is being held from 1 May to 31 October 2010 on both banks of the Huangpu River in the city of Shanghai, China. In effort to provide virtual gateway to experience World Expo 2010 Shanghai China for those who not be able to visit Shanghai World Expo personally, the organizer of World Expo 2010 has created an Expo online site which is officially known as Expo Shanghai Online. The Expo Shanghai Online is an integral part of World Expo 2010 which functions as the introductory channel, extension and supplement of the real Expo, in the form of a website combining 3D exhibitions, events and interactions.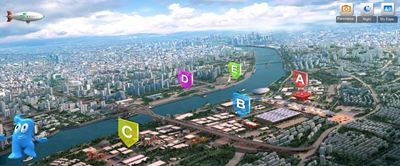 In other word, Expo Online is the online edition of the physical World Expo 2010 Shanghai China with a virtual park corresponding to the 5.28 sq km Expo site of the real Expo 2010 which includes virtual pavilions and exhibitions of all participants corresponding to their physical counterparts.
Besides virtual tours, Expo Online is also integrated with Expo Carnival, Community and Future City for users to enjoy games and fun while visiting. The Expo Online is available in English and Chinese version.