The full service provider of office & storage servers, power & gaming workstations, Visionman Computers has announced its new 17-inch Widow 'Double-Nine' gaming notebook, which the company claims as the first industry-wide to offer nVidia GeForce 9800 video, first to support 8GB total RAM and first to support Intel's latest 9-series quad core CPU design.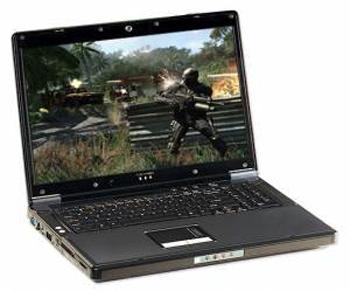 Specifications Of Widow Double-Nine:
17-inch WSGA+ (1680×1050) Super Clear Screen
Intel Core 2 Quad Q9450 2.66Ghz CPU
Quad Core / 64-bit support
Intel P965 + ICH8R chipset
4GB Dual Channel DDR2-800 (Supports up to 8GB of total RAM)
320GB SATA-II 7200RPM 2.5-inch hard drive (Supports 3 hard drives)
RAID 0,1,5 capable
Dual nVidia 9800M GT 512MB GDDR3 video card (SLI enabled)
Intel HD 5.1 sound system
Built-in 2 megapixel webcam
Integrated 7-in-1 card reader
8X Slim Dual-Layer LiteOn DVD-RW
Microsoft Windows Vista Ultimate 64-bit
"Widow has a great tradition of being first-to-market in the gaming space, and we have done it again," said Tre Cates, CEO of Visionman. "The online gaming market continues to grow, and we're working hard to deliver bleeding edge performance to our early adopters."
The new Widow Double-Nine gaming notebook based on GeForce 9800M GT is available now for about $4600, while a GTX version will hit the market in coming August.