Visual Studio Ultimate 2012, which is the most comprehensive ALM (Application Lifecycle Management) edition of Visual Studio 2012, has been leaked to the Internet for free download via file sharing sites or BitTorrent. Visual Studio 2012, the new version of integrated development environment (IDE) from Microsoft, includes support for WinRT (Windows Runtime) and C++/CX (Component Extensions), the cross-platform application architecture used on the Windows 8 operating system. Thus, if you plan to develop for Windows 8, Visual Studio 2012 is almost a must.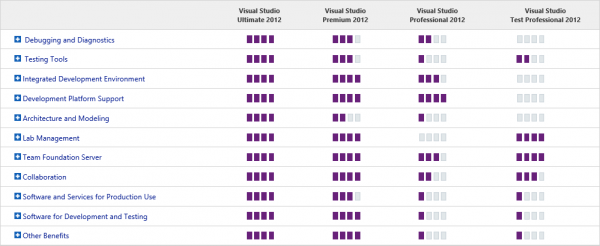 Comparison chart for various editions of Visual Studio 2012.
Visual Studio 2012 had RTM (Released to Manufacturing) in end July, and the completion of final build of Visual Studio 2012 was announced on August 1, 2012. The official launch event for Visual Studio is on September 12, 2012, although the code bits are published for MSDN subscribers on August 15th, 2012.
The leaked Visual Studio Ultimate 2012 is from retail and volume licensing channels. Both ISO images are leaked by the usual suspect, W.Z.T, and are unmodified and untouched original images. A Visual Studio Express 2012 is also available for download, but the edition will always officially be available freely from Microsoft. Microsoft does not release the 64-bit (x64) version of Visual Studio 2012, hence only 32-bit (x86) is available.
Checksum information for Visual Studio 2012 Ultimate RTM Retail English:
BUILD: 11.0.50727.1
FILE NAMEA: en_visual_studio_ultimate_2012_RTM_x86_dvd.rar
SIZE: 1,518,059,675 byte
SHA-1: C6894B281E446781DF111F99E9438114A495AB9C
MD5: 7298F77D26FB69DD32D64D5A7C9E3A47
CRC: 5FAD787B
Checksum information for Visual Studio Express 2012 RTM English:
BUILD: 11.0.50727.1
FILE NAME: en_visual_studio_express_2012_RTM_for_Windows_8_x86_dvd.rar
SIZE: 404,356,119 byte
SHA-1: DEA7BE459AFA81DF70B7B57F9CA01FA78C6B1CAF
MD5: A376B8E17986ACD0286864522D51E28E
CRC: B4EC747B
Checksum information for Visual Studio Ultimate 2012 RTM Volume English:
BUILD: 11.0.50727.1
FILE NAME: VS2012_ULT_VL_ENU.iso
SIZE: 1,594,998,784 byte
SHA-1: B1A10CB513925593F5D3830CCF00AE8720CF2AF1
MD5: 0CF7CCD729BDF716BD6DD87F9204D4E3
CRC: 697A7F1D
No product key is required to install Visual Studio 2012 Ultimate, and no activation is required either. Visual Studio Ultimate 2012 has a listed price of USD $13,299. Other than Visual Studio Express which is free, a lesser edition, Visual Studio Professional 2012, has also made available for free download on DreamSpark for students or academic personnel.