You may have seen many Android-based products being released to market space. Not to be left behind, Vobis Computers has just unveiled a new Android-based mobile phone just recently. Named as Highscreen PP5420, it is claimed to the first Android-based mobile phone targeted for Russian market.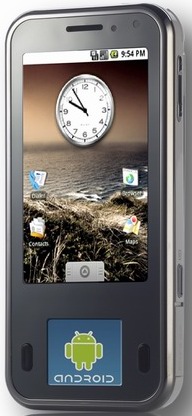 The mobile device appears to be almost similar one in terms of hardware specification and physical appearance to Mobinnova ICE smartphone except that the Mobinnova ICE is powered by Windows Mobile OS (Operating System) while the new Highscreen P5420 will be preloaded with Linux based Android OS. Similarly, both of them are powered by Qualcomm MSM7201ATM processor running at 528MHz with 128MB RAM and 256MB Flash ROM (with MicroSD expansion slot) which is sufficient enough to handle basic mobile computing while on the move. Besides, they are enhanced with GPS (Global Positioning System), WiFi wireless technology, accelerometer, 3-megapixel camera as well as dual display screen with normal 3-inch WQVGA display screen and an OLED small display simultaneously. As expected, it supports GSM, WCDMA/HSDPA, HSUPA cellular network that makes it a good companion to be brought around the world with roaming capability.
The Highscreen PP5420 will be preloaded with a modified Russian based Android version 1.5 and retailed at 360 Euros (or around $507), it is considered quite affordable as the first Android mobile phone for Russian market.