GW Micro has recently unveiled a new and special PDA known as Voice Sense. The unique of it is it doesn't have a touch screen, a CMOS camera and those features that you normally find in latest PDA. That is true and you may wonder why. The reason is this newly released PDA is designed specifically for visually impaired users that keen on getting themselves a personal digital assistance for daily use.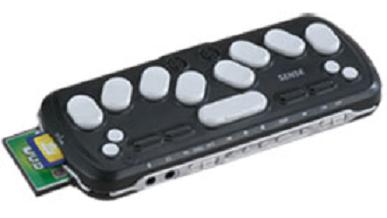 Powered by Intel PXA270 processor running at 540MHz and back-up by huge memory of 1GB, the PDA is capable of supporting various multimedia functions that emphasize on voice features. For example it has Daisy talking book player, MP3 media player, FM radio tuner, voice recording features and etc. Besides, it comes with both SD and CF slots for external memory support. On top of that, it also features 802.11b/g wireless LAN that enable users to access internet via a Perkins-style Braille keyboard.
GW Micro is able to find nitch spot to enter into this competitive PDA segment. It has able to differentiate itself from other manufacturers by targeting on this minority group. The model is already available in commercial market at $1800.