Vonage has officially launch Vonage Mobile for Facebook app, which enables calling to Facebook friends around the globe for free. Vonage Mobile for Facebook app is a free downloadable mobile app for iPhone, iPod touch and iPad (despite its name, it's not a Facebook app) that able to make free mobile calls to all Facebook friends directly from friends list with a single touch. Vonage Mobile app requires user logging into Facebook account and calls can only be made to other Facebook users with the same mobile app installed on their phone. With Vonage Mobile app, users can make phone calls by using high-speed Internet connection that no international roaming fees charges. In addition, users also can invite friends to download Vonage Mobile app via SMS or email right from the app.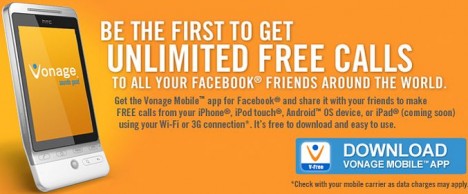 Features of Vonage Mobile for Facebook:
The app is free to get and free to use.
Unlimited calling to Facebook friends from anywhere to anywhere in the world.
Facebook profile and status is users Caller ID.
No cell minute usage, international calling fees or data roaming charges when on Wi-Fi.
No phone number is needed.
Only need to log in the first time launch the app.
No need to create or join a new network.
Know your friends' status when they call.
Touch Facebook friend's ID and call them without a phone number.
Vonage Mobile app for Facebook is available on iPhone, iPod touch, and iPad (requires iOS 3.1 or later), Android and through web interface for U.S mobile numbers users (registration has to be done on mobile smartphone device prior to registering for web interface).
Here how to download free Vonage Mobile for Facebook app:
Visit vonagemobile.com to enter 10-digit U.S. mobile number and click "SEND" button as shown in below image to download the app directly to your phone.

After submitting mobile number, text message containing download link will send to register mobile number.
Click the link in the text message to download the app. Launch the app and log in with your Facebook account.
All your friends will be automatically loaded into the Application. Friends will be grouped as the ones you can call for free and whom you can send messages.
Just choose a friend to call and the application will call that friend anywhere on the world for free.
Alternative:
Download Vonage Mobile app for iOS from iTunes App Store.
Download Vonage Mobile app for Android from Android Market.