Android mobile operating system has built-in VPN connection tool that supports VPN hosts or servers based on PPTP, L2TP, L2TP/IPSec PSK and L2TP/IPSec CRT tunneling protocol. Unfortunately, VPN client on mobile phone devices running Android OS does not support Cisco, Nortel or FreeS/WAN (IPSEC/3DES) like VPN concentrators.

In order to support establishment of VPN connection to Cisco, Nortel or FreeS/WAN-based IPSec VPN, Android users will need to install third-party VPN clients. VPN Connections is free VPN client for Android device to connect to Cisco-like VPN concentrators. Unfortunately, VPN Connections require a rooted (jailbreak) Android device due to its system requirements of enabling TUN module support, a virtual network kernel device.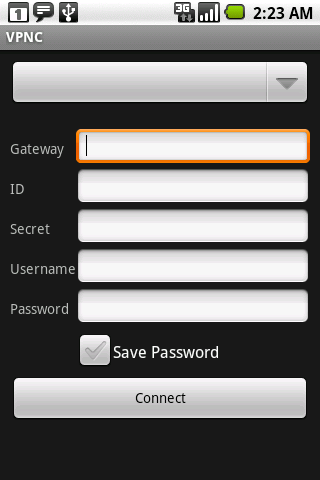 Features of VPN Connections:
Support mobile phones running on Cynaogen or JesusFreke (JF) ROM, or rooted original ROM with root user privileges and TUN support.
Can connect to Cisco, Nortel or FreeSwan IPSec server.
Auto load tun module and automatically download if it's missing from the ROM's kernel.
Disconnection notification.
VPN Connections is available for free download from Google Code, of which the latest version of VPN Connections is version 0.99: VPN_Connections_v099.apk
After downloading the APK file, here's the trick to install .apk file onto Android phone.