Posted:
November 11, 2009
/
Under:
Operating Systems
/
By:
My Digital Life Editorial Team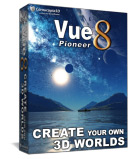 Vue is a 3D software package for the creation, animation, and rendering of natural 3D environments. Vue is available in six versions: xStream, Infinite, Complete, Pro Studio, Esprit, and Pioneer, Vue Pioneer been the edition with fewest feature sets. Although at the low end range of Vue series of product, Vue Pioneer is a great way to learn 3D, and fully functional to compose and create 3D landscapes with ability to select the best point of view and render hyper-realistic images of landscapes in moody atmospheres.

Features and Usage of Vue 8 Pioneer:
Create amazingly detailed 3D Worlds in any style – photo-realistic, illustration, fantasy, abstract with no drawing skills required.
Produce images in superb photo-realistic quality and vibrant colors for print and web.
Bring to life stories, comics and cartoons, poems or games.
Create still and animated backgrounds.
Illustrate presentations and documents.
Simulate geologically realistic environments, from archeologically accurate worlds to a possible evolution of the Earth.
Easily create professional 3D titling effects for own videos and DVDs.
Invent original wallpapers and screensavers, posters, postcards, calendars, stickers.
Represent yourself, your friends and family in the most exotic and fantasy worlds or funny situations – travel to deep and savage mangroves or desert islands lost in the ocean.
Design original websites.
Create dazzling animations – animate user entire world, from the smallest plant to the biggest cloud and walk, drive and fly through them.
Wide selection of presets.
Unrivaled natural 3D creation power.
Renders at Full HD resolution.
Direct access to Cornucopia3D content.
One click to create a terrain, one click to grow a new plant, one click to add 3D text, etc without worry about perspective, lighting or shadows.
Vue 8 Pioneer is developed by e-on software for Cornucopia3D, and is now available as freeware. Vue 8 Pioneer is derived from the research e-on software makes for the high-end products it sells to large special effects studios. Vue 8 Pioneer is full version product which different from PLE (Personal Learning Edition), which is a trial version with watermarks on the renders (although there is logo imprinted). Vue 8 Pioneer, which can be used forever, also can be upgraded to higher end versions of Vue, and user can exchange scenes with other Vue users.
Vue 8 Pioneer Limitations:
Pictures carry a logo.
Cannot import 3D models.
Vue 8 Pioneer is for home use only.
Vue 8 Pioneer is provided "as is", without any technical support.
Vue 8 Pioneer can be downloaded from cornucopia3d.com. Vue 8 Pioneer setup installer is available for 32 and 64-bit Windows versions and Universal Mac builds. User will have to create a Cornucopia3D account (if you don't already have one) to use the product.
Direct Download Links for Vue 8 Pioneer: Vue8Pioneer.zip