The leader in Video Eyewear and personal display devices for entertainment, Vuzix has recently announced its latest innovation to the video eyewear market – iWear AV920-C, which is the first personal video display allowing multiplayer gaming off a single video game console.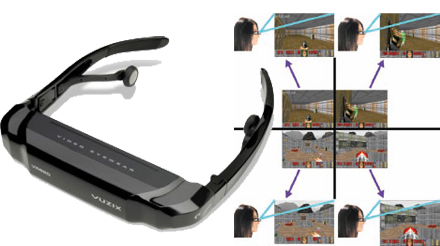 According to the company, "The AV920-C will connect to Xbox360, PlayStation 3, Nintendo Wii and others to provide an immersive experience and a 62 inch viewing screen for single and multiplayer video games"
Features Of New iWear AV920-C:
Advanced Video Frame Buffers, allowing for up to four 62 inch virtual screens
iWear 3D enabled for automatic 2D/3D control; no buttons required
Twin high-resolution 640×480 (920,000 pixels) LCD displays
AccuTilt viewer pivots up to 15 degrees for comfortable viewing angle
Can be worn with or without prescription eyeglasses
The integrated rechargeable lithium ion battery gives approximately six hours of continuous viewing
24-bit true color (16 million colors) and 60 Hz progressive scan update rate
Includes mini USB AC charger
"The AV920-C adds a new dimension to multiplayer games. Instead of viewing all four players on the one screen, the AV920-C allows users to select their half or quadrant of the display screen and view it blown on their own personal 62 inch screen," said Paul Travers, Vuzix's CEO. "With the ability to daisy chain the AV920-C's together, up to four players can game without distraction or fear that an opponent can view their screen. This will change how local or inhome multiplayer games are played."
The new Vuzix iWear AV920-C personal video display is expected to be available later this month but no words on its price yet.