How many of you actually treat iPhone as alarm clock system? If you are one of those and is still searching around for a much more powerful alarm app, the recently announced WakeApp could be one of your best options. Other than serving as a normal alarm clock system, WakeApp is claimed to be intelligent and powerful enough that can be used to analyze your sleep patterns and wake you up at the right sleep phase.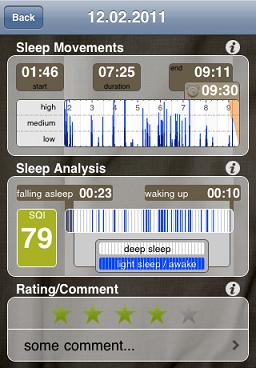 As you may curious on how it works and based on explanation from developer, the app uses iPhone's internal accelerometer and gyroscope to records users' sleep movements and those collected data will be analyzed by using mathematical formula based on scientific sleep research. And intelligently, the WakeApp will choose the most suitable sleep phase to wake you up rather than letting it to be interrupted randomly.
Some features of the WakeApp are as below:
Intelligent wake-up window
Records actual body movements for analysis
Displays sleep patterns with sleep quality calculation
Show the time taken for user to fall asleep
Keep history of all your recordings.
Good news now, WakeApp is available in AppStore and it will be free of charge during the first launching day. Subsequently, it will be priced at $0.99 and will reach its final price of $2.99 soon.