Walmart has re-launched its new and improved MP3 Music Downloads store by offering song download at a discounted price, free one song download per week and a free MP3 download with every CD purchases in store or online. Now, Walmart is offering more than 3 million MP3 tracks with the content from all major labels. Many tracks will still be offered at the original price of 94 cents but certain "Top 25" songs will go for the discounted price of 74 cents.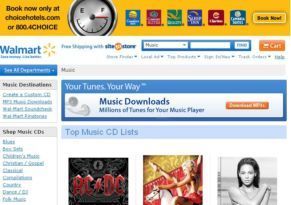 The new and improved features of the Walmart new MP3 Music Downloads store as below:
Starting at 74 cents per track for the top 25 songs from artists like Carrie Underwood, Coldplay, Nickelback, Rhianna and etc.
Free MP3 "track of the week" for customers to discover more music from up-and-coming new artists and established performers.
Free MP3 digital track of the customer's choice with every CD purchased in stores or online (Only begin at mid of November).
More than 3 million MP3 tracks with the content from all four major labels and various independents.
Exclusive Walmart Soundcheck content and performances for today's hottest artists or upcoming soudcheck performances like Beyonce, Nickelback and current American Idol, David Cook.
Able to support Mac OS, Linux and Windows OS.
Accessible through Firefox, Safari and Internet Explorer Browsers.
Music and artwork sync directly to default media players such as iTunes, Windows Media Player and etc.