How to catch up with your favourite shows in the comforts of a park bench, a train seat or even in your office?
Gsmart i120 and i128 are now available in the market. The introduction of these two new PDA phones can help you to fulfill your dream. These GSmart i120 and i128 come with analogue TV features that support NTSC and PAL formats. Just hook up the bundled antenna into the USB slot and you are set to go, although a bit of tuning is required to get a clear picture.
Gsmart i120 and i128 are produced by Gigabyte Communications Inc, a Taiwan based company. Both PDA-phones have their own answering machine function.The Answering Machine function can playback pre-recorded messages and serve you best for not calling back to people who you prefer not to waste money or time to call back. Once there is a call coming in, you can decide which message to let them listen to if you are not in the mood to pick up this particular call.

The i120 also comes with Wisetalk, a Gigabyte proprietary software. This Wise Talk software can give you the freedom of deciding when to pick up a call or not back to end users. The Overdub feature, which can simulate the background noise, camouflages your actual location by letting people who call you to hear the sound of airport or concert or meeting room. Try it, you will love it.With Wisetalk, you can be anywhere from the airport, LRT Station to the cinema.
Both triband PDA phones run on Windows Mobile 5.0 and come with WiFi and Bluetooth connectivity. The devices are bundled with earphones and an extra battery. Gsmart i120 and i128 also helps you to type message or email faster with the keypad. When you type up a word on the keypad, Smart Input will directly to choose the right alphabets of what you want to spell. It supports various languages of input
Read the specification of GSmart i120 as extracted from Gigabyte Communications Inc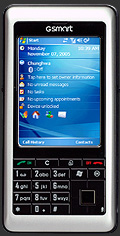 i120
Specifications:
Service: GSM 900/1800/1900 , GPRS class 10
Operating Sys: Micorsoft Window Mobile 5.0 for Pocket PC Phone Edition(AKU3.3)
Main Display: 2.4 inch, 262k color TFT LCD touch panel
Size: 106.6 × 53.2 × 19.8mm
Weight: 130g (w / battery)
Battery: Li-Ion 920/1300 mAh
Talk Time : Digital Talk Time up to 3.5 hours
Standby: 125 hours
Phonebook: Maximum 500 contacts
Multimedia Messaging Service:E-mail, SMS, MMS, MSN Messenger, Windows Mobile Direct Push Camera: 2.1 mega pixels with macro function, digital zoom, and video recording
Ringtone: 192 polyphonic ringtone 、MP3、WMA、AMR、MID
GPRS/WAP: GPRS Class10/ WAP2.0
External Memory: Mini SD (256MB Mini SD card is enclosed)
CPU: Intel PXA272, 416 MHz
Memory: NOR 256MB + SDRAM 64MB
TV: NTSC/PAL
Radio: FM
Data Transfer Interface: Bluetooth 1.2, Mini USB 1.1
Wi-Fi: WLAN 802.11b + g
Application: Pocket MSN、IE、Windows Media Player、PowerPoint Mobile、Excel Mobile、Word Mobile
Read the specification of GSmart i128 as extracted from Gigabyte Communications Inc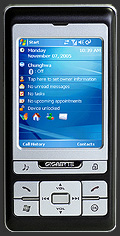 i128
Specifications:
Service: GSM 900/1800/1900 , GPRS class 10
Operating Sys: Micorsoft Window Mobile 5.0 for Pocket PC Phone Edition(AKU2)
Main Display: 2.4 inch, 262k color TFT LCD touch panel
Size: 106.6 × 53.2 × 19.8mm
Weight: 130g (w / battery)
Battery: Li-Ion 920/1300 mAh
Talk Time: Digital Talk Time up to 3.5 hours
Standby: 125 hours
Memory: ROM 128 MB, RAM 64 MB
Phonebook: Maxium 500 contacts
Multimedia Messaging Service: E-mail, SMS, MMS, MSN Messenger, Windows Mobile Direct Push
Camera: 2.1 mega pixels with macro function, digital zoom, and video recording
Ringtone: 192 polyphonic ringtone 、MP3、WMA、AMR、MID
External Memory: Mini SD (256MB Mini SD card is enclosed)
GPRS/WAP: GPRS Class10/ WAP2.0
CPU: Intel PXA272, 416 MHz
TV: NTSC/PAL
Radio: FM
Data Transfer Interface: Bluetooth 1.2, Mini USB 1.1
Wi-Fi: WLAN 802.11b + g
Application: Pocket MSN、IE、Windows Media Player、PowerPoint Mobile、Excel Mobile、Word Mobile