Great news for sports fans! The global leader in sports, ESPN has released its free WatchESPN iOS app for Apple's iPad, iPhone and iPod touch, which is designed to allow the subscribers of Time Warner Cable, Bright House Networks and Verizon FiOS TV for easily enjoying live sports and shows from ESPN, ESPN2, ESPNU as well as ESPN3.com anywhere, anytime right on their beloved Apple devices.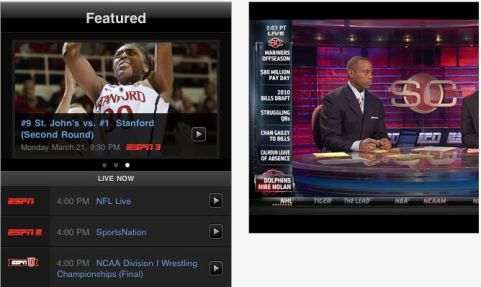 "Innovation continues to drive ESPN," commented George Bodenheimer, president for ESPN, Inc. and ABC Sports. "When we launched in 1979, nobody envisioned a day when people would carry ESPN in their pockets. But here we are. And we've reached this watershed moment for the industry through tremendous collaboration with forward-thinking partners."
The new easy-to-use WatchESPN App for iPhone, iPod touch and iPad is now available as a free download from the App Store, and is expected to be available on other mobile platforms in the near future. According to ESPN, the iPad optimized version of WatchESPN is slated to be available in coming May.
WatchESPN for Android is now also available.