Outdoor sports enthusiasts or extreme sports lovers might miss the chance to take some nice action photos when they participate in challenging games involving speed, height and high level of physical exertion such as motorcycle racing, skateboarding, rock climbing, etc because the camera used is not strong enough or not designed for these action shots. MotionTouch has collaborated with Predator Technology to introduce a rugged, waterproof and wearable video camera, Predator VX360 that is designed particularly for these extreme sporting challenges to record their cherished memories of the game.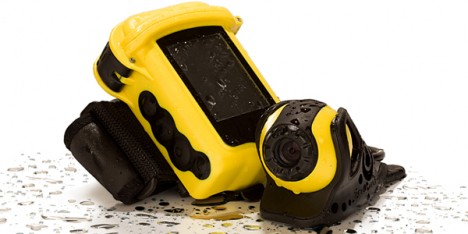 Predator VX360 consists of two parts: the recording unit and the eyeball camera. The recording unit can be worn on the arm while the eyeball camera is worn on a headband. The camera is 360 degree adjustable for different angles. Users can make recording via some large ergonomic buttons on the recording unit. The unit also features an integrated colour LCD screen to play back footage.
Predator VX360 helps extreme sports lovers to take great video and photo in very stringent situations which is impossible for other cameras to operate. The wearable camera is light for easy portability and to be worn around the arm and head. It is waterproof up to three meters in water, solid enough to withstand strong impact with hard objects such as rock or road, and robust enough against the abrasive effects of seawater.
Besides its rugged look and friendly design, the video quality is excellent, too. For £549.99 or $892, extreme sports lovers or adventurers can easily capture their great moments when they challenge the mighty forces of nature or their own physical limits. The video camera can record users' footage as clips or even as a single movie.