There are high risks involved in using the Internet because users are constantly exposed to scam sites, malware, spyware, viruses and identity thefts. The consequences of accessing these sites can be long lasting and complicated. In order to keep users safe from these pitfalls, a free Internet security addon for both IE and Firefox browser, WOT (Web of Trust) can perhaps minimize the risks.

WOT is a free application which acts as a warning indicator and can be added to the browser. Once it is added, WOT's color-coded icons will show the safety ratings given to a website: red indicates danger, amber for caution and green means go. A total of 21 million websites are rated by WOT using sophisticated algorithms. Data is collected through multiple sources from spam blacklists to phishing to ensure more reliable results.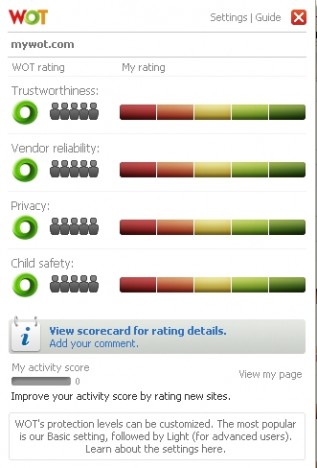 WOT Indicators
The WOT rankings are categorized into four: vendor reliability, trustworthiness, privacy, and child safety. Available in ten languages, WOT is especially useful for users who like to surf the Net and more often than not stumble upon unscrupulous web content. It blocks these websites before any serious damage is done. Concerned parents or guardians can also use WOT to block inappropriate websites for children.
Download WOT for IE or WOT for Firefox.