Website X5 Smart Edition is a visual web design tool for non-programmer which structured as a guided intuitive process to create a website. Website X5 Smart allows users to create, customize and publish a well design and professional layout website with plenty of web pages in just 5 steps.

Using Website X5 Smart Edition does not require programming skills. User able to add in e-mail forms, RSS feed, reserved area and multi-language sites. Sites created with Website X5 is compatible with all web browsers, XTHML compliant codes optimized for search engines, and navigable from Palm devices, iPhone, Windows Mobile Pocket PCs and mobile phones too. A website can be done in the easy 5 steps:
Choose from one of the pre-installed templates.
Create the layout and the navigation of your website.
Add your content: text, images, Flash videos and more.
Create your own unique style with buttons and fonts.
The integrated FTP engine makes it easy to put your website online.
Website X5 Smart Edition has fewer templates and does not contain e-commerce shopping cart when compared with Website X5 Evolution, the full commercial version. However, Website X5 Smart Edition is good enough to use to create a fully functional website, especially when the software is available for free.
Avanquest, as part of promotion of Advent Calendar Reach for the Stars promotion, is giving away Website X5 Smart Edition for free, with a genuine product code. To grab your free license registration serial number for Website X5 Smart Edition, go to the following Avanquest promotion page:
http://web.avanquest.com/special_offers/2008_calendar/calendar.cfm?country_id=3
Then click on Star numbered as 1 (for December 1st). Click on Access Your Free Download button, and then fill up your email address, name and surname. A serial key code will be displayed on screen and sent to registered email, with a download link to full setup installer of Website X5 Smart Edition: wsx5_sm.exe.
During installation, user will be asked for unlock code. Click on the Unlock… button to go to the Incomedia Products Registration page with your unique computer code. Enter email address and click Send button.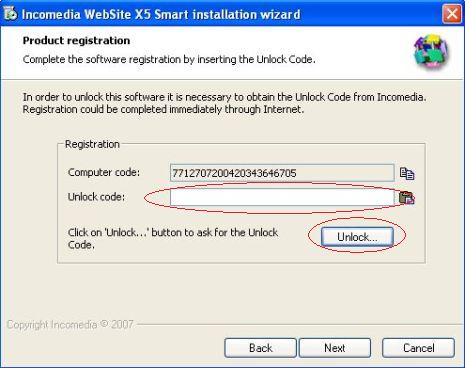 Then, on next page (e.g. New customer registration), enter the product code received from Avanquest, and complete the information required on other fields, and finally click on Send button. An unlock code to activate Website X5 into full version product will be sent. Copy and paste the unlock code to the Unlock code field in the installation wizard to complete the installation.
Avanquest is going to publish one offer everyday till December 24th, 2008. Other languages of Avanquest is giving away free software application too. Although the web interface is in non-English language, the software may use in English GUI if it supports multi-languages. Here's a list of other software giveaway on December 1, 2008:
Avanquest France: WebSite X5 Smart Edition
Avanquest Germany: WebEasy 6 Express (http://web.avanquest.com/special_offers/2008_calendar/calendar.cfm?country_id=2)
Avanquest Spain: AutoSave 2 (http://web.avanquest.com/special_offers/2008_calendar/calendar.cfm?country_id=4)
Avanquest Italy: TransferMy Video (http://web.avanquest.com/special_offers/2008_calendar/calendar.cfm?country_id=5)
Note: It's likely that all these free software will be rotating among various language sites of Avanquest. So just for it to appear on the English Avent Calender special offer page.