Wesabe has introduced an iPhone application for iPhone or iPod Touch users to manage or track their money. With this application, the iPhone and iPod Touch users can view all of their bank and credit card accounts in one place, and track their cash spending while on the go. Beside that, they also allow to edit, categorize, tag their purchase, set up and monitor spending targets through their iPhone. When the users input a purchase, the iPhone application will saves the time on typing by offering up the names of the closest merchants via the phone GPS and Yahoo!Local APIs.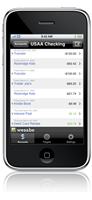 "With Wesabe's iPhone app, consumers can see exactly how much money they have anytime, anywhere, which leads to better-informed buying decisions," adds Marc Hedlund, CEO of Wesabe. "This app also solves the problem of tracking cash purchases, which are often a budget black hole. Now iPhone users have a fast, easy way to document those little expenses that can add up to make a big financial dent."
"Unlike other applications that just show a static, read-only snapshot of your finances, the Wesabe iPhone app uses the full capabilities of the iPhone – GPS technology, web browsing features, graphics-rich views, and incredibly easy interaction," said Hedlund.
The Wesabe iPhone application has also integrated privacy protection via Wesabe-specific PIN-Set with an optional 4-digit passcode to lock the financial data on the iPhone.
The Wesebe iPhone application is now available for free download at App store and works with all versions of the iPhone or iPod Touch with operating system 2.1 or later.