WhatsApp Messenger for iPhone os iOS App Store is the only marketplace which the cross-platform mobile messaging app has to be purchased at the cost of $0.99 cents prior to downloading. WhatsApp is available for free for Android, BlackBerry and Nokia Symbian without charge, where users get to use WhatsApp service free for 1 year as free trial period.

A lot of iPhone users is definitely wondering why iPhone, iPod touch and iPad users always have the pay for something which usually available for free for other mobile platform users, and WhatsApp is one such app. But now iPhone users finally have the even better deal in town, as WhatsApp goes free today.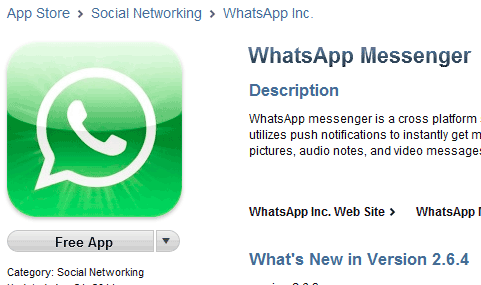 Unlike WhatsApp for Android, BlackBerry and Nokia Symbian which requires a recurring payment of $1.99 each year after one year of free service (though whether the rule is enforced or yet is another question and the developer has said that they won't ask for payment for the app once a payment is received), WhatsApp Messenger is free for life once upon the upfront purchase price payment. And now, with the app becomes free (probably for a limited time), you're virtually get the download and enjoy WhatsApp messaging free for life without any further payment.
WhatsApp Messenger is a cross-platform mobile messaging app which allows you to send and receive unlimited text, audio, video and voice messages without having to pay for SMS and MMS. Instead, it routes the messages through Internet via wireless (Wi-Fi) or mobile data (3G/4G/EDGE) network. In essence it's an instant messaging app with support of using real phone number as contact identity. WhatsApp Messenger is available for iPhone, BlackBerry, Android and Nokia and support messaging between all these devices with WhatsApp installed.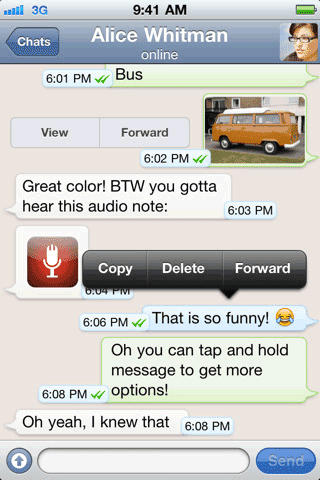 Features of WhatsApp Messenger:
No hidden cost.
Multimedia support – Send video, images, and voice notes to your friends and contacts.
Group chat and conversations with your contacts.
No international charges.
No user name, password or PIN to remember as WhatsApp works with real phone number, just like SMS would, and integrates flawlessly with your existing phone address book.
No login or logout as WhatsApp always on and always connected with push notifications.
The contacts are automatically retrieved from phone's Address Book. Contacts who are already have WhatsApp Messenger will be automatically displayed under Favorites, similar to a buddy list.
Ability to send offline messages to contacts who switch off the phone.
User can set status message, just like any other instant messaging application.
Location sharing.
Exchange contacts.
Can set custom wallpaper.
Can set custom notification sounds.
Landscape mode.
Displaying precise message time stamps.
Ability to email chat history.
Broadcast messages (SMS text or MMS) to many contacts at once.
Been one of the most popular paid apps in Social Networking category, WhatsApp has been one of the first apps to buy for many iPhone users. Those who refuses to pay resort to crack version of WhatsApp .ipa on Cydia to install on jailbroken iPHone. If you haven't pay or crack to get WhatsApp, download WhatsApp Messenger for free now from http://itunes.apple.com/app/whatsapp-messenger/id310633997?mt=8 or search for WhatsApp inside US iTunes Store. The free WhatsApp Messenger sale offer is only available in US iTunes Store.