Microsoft is trying to streamline its Microsoft 7, the upcoming OS (Operating System) with the aim to make it one of the best OS in terms of compatibility with different hardware platform in today's PC market. During the recent WinHEC (Windows Hardware Engineering Conference), the giant software maker has released a number of pre-beta Windows 7 to hardware developers, hoping to reduce incompatibility issues of devices as being encountered in Vista OS before the official launch of Windows 7 by next year.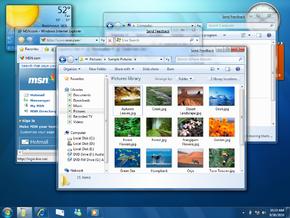 One of the obvious improvements is on the device stage whereby PC users can now go into it and get all necessary information in a single place. For example, if you have a new cell phone that is plugged into the USB interface through a synchronous cable, users will be able to obtain necessary info such as manual, driver and consolidating menus with related hardware interface, functionality information and etc.
Besides, Microsoft is also optimizing this new OS to fully utilize SSD (Solid State Devices) advantages. While SSD slowness problem when running in Vista could be due to its crappy controller but some do hope that this giant software maker can do tweaking to further improve the whole system performance.
Seems like many expectations have been thrown into this newly revised Windows 7. Hopefully Microsoft will be able to pack these features in a smaller foot print Windows 7 OS while able to reach consumer market by mid of 2009.