Since Windows 7 Beta had been officially released for public download early 2009, many Windows enthusiasts have eagerly awaited the release of Windows 7 RC (Release Candidate), which supposed to be a better, more reliable, faster and more compatible build that beta. Microsoft has been silent on the exact date for availability of Windows 7, resulting in many speculations have been made. However, a page at Microsoft Partner site may have leaked the ultimate date for the release of Windows 7 RC.

A Windows 7 information page on Microsoft Partner website has stated that "if you have subscriptions to MSDN or TechNet, you can download Windows 7 RC now. Otherwise, you can download Windows 7 RC starting May 5, 2009." The page has been taken down (screenshot below) and reverted back to information about Windows 7 Beta. But if the information is correct, the public availability of the Windows 7 RC free download will start from May 5, 2009, similar to one previous rumor.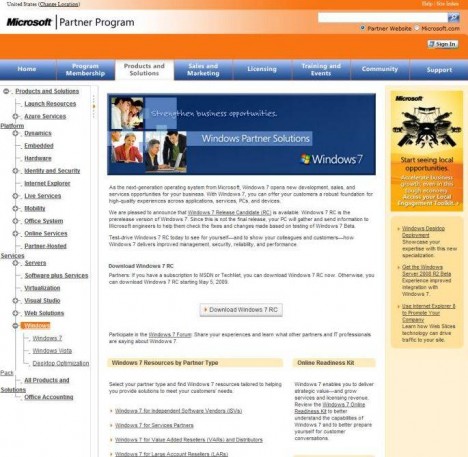 However, the data may be posted in error, and may be changed, as the other information, that Windows 7 RC is now available as MSDN and TechNet subscriber's download is inaccurate. Apparently, Windows 7 RC, which is rumored to be build 7082 or 7100, is made available to major OEM Gold partners only, but not to TechNet or MSDN subscribers. And, there is no leak yet too.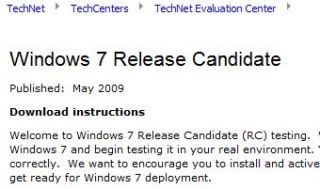 Previously, a Windows 7 RC download page (has been removed and reverted back to Windows 7 Beta page) has made available on Microsoft TechNet too. The page also makes the available date of Windows 7 RC in May. Other information is that Windows 7 RC release will be available at least through June 2009. The number of product keys available to the public is not restricted and not limited, as they probably are same set of product keys anyway. Windows 7 RC will expire on June 1, 2010. Similar to Windows 7 Beta, Windows 7 RC will be available for download in 32-bit (x86) and 64-bit (x64) in five languages: English, German, Japanese, French, and Spanish.