Although Windows 7 is one of the most reliable operating system ever, there are still plenty of problems, issues or errors that may occurs due to complexity and diversity of the system configuration, especially when upgrading from Windows Vista. Besides, many Windows 7 users may look for guidance or tips and tricks on using Windows 7.

To facilitate and focus on problem fixing and provide solution for issue related to Windows 7 to end-users, Microsoft launches an one-stop portal called "Windows 7 Solution Center", targeted Windows Vista system who wants to upgrade to Windows 7. In fact, Microsoft's Knowledge Base Articles will redirect end-user to Windows 7 Solution Center is the KB article doesn't manage to address or fix the issues or errors occurred, or occurred when installing or upgrading to Windows 7, when the KB help page is viewed in Windows Vista.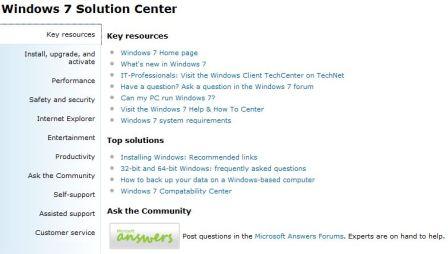 Windows 7 Solution Center covers a wide range of topics, including install, upgrade and activate, performance, safety and security, Internet Explorer, entertainment, and productivity. Visitors will be presented with key resource page when first arriving at the solution center, which provides direct links to several key resources such as Windows 7 Home page, What's new in Windows 7, IT-Professionals: Visit the Windows Client TechCenter on TechNet, Can my PC run Windows 7?, Visit the Windows 7 Help & How To Center and Windows 7 system requirements.
The key resources page also features top solutions such as Installing Windows: Recommended links, 32-bit and 64-bit Windows: frequently asked questions, How to back up your data on a Windows-based computer and link to Windows 7 Compatability Center, and top answers from Getting Ready for Windows 7 forum. Of course, it also allows user to ask the community by posting questions in the Microsoft Answers Forums.
Visit Windows 7 Solution Center.