Windows 8 will feature a new version of OEM activation mechanism. The OEM Actvation 3.0 (OA 3.0) is the updated and redesigned version of OEM Activation 2.1 implemented in Windows 7 preceded by OEM Activation 2.0 in Windows Vista. Mike Angiulo, Windows Client chief of Microsft, confirmed that Windows 8 will use OEM Activation 3.0 by stating that Microsoft has already started to engage partners on "OEM Activation 3.0" when demonstrating "Windows 8" at a partner preview event in Taipei, Taiwan, for COMPUTEX 2011 on June 2, 2011.
View the various videos demoing Windows 8 UI and features.

OEM Activation 3.0 will be a digital product key technology that streamlines the configuration and development process as well as supply chain operation when building PCs. Microsoft promises that under OEM Activation 3.0, end-users will continue to experience seamless activation experience.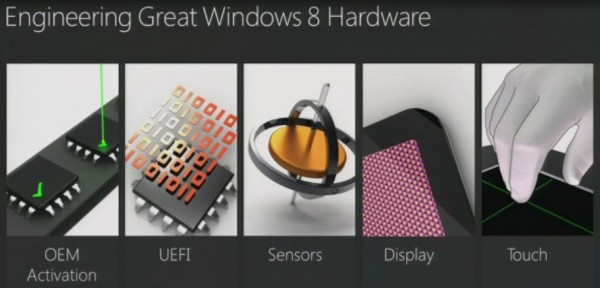 In fact, the current activation process for end-users who purchased a PC from OEM (original equipment manufacturers) with pre-installed or bundled copy of Windows operating system is actually the most seamless. They actually DO NOT need to take any action to activate the system. The new computer is basically auto-activated upon first boot up, through a mechanism called System-Locked Preinstallation (SLP) that matches digital certificate and OEM-SLP product key of the manufacturers to a SLIC marker in BIOS or UEFI (EFI BIOS).
In Microsoft's words, OEM activation is a perpetual, one-time activation that associates an edition of Windows with the firmware of a computer. The copy of Windows operating system that the OEM installs on a PC is only valid on that particular PC and can be reinstalled and reactivated only from the recovery media that is provided by the OEM.
Nonetheless, you can always buy or use a retail license product key of Windows OS to upgrade and activate an OEM PC, even though it may already have a Windows through OEM activation.
OEM activation is a convenient provided for buyers of branded computers, even though Microsoft can always requires end-users of new computers to perform the activation manually. Too convenient, that makes OEM activation the principal and easiest way to crack Windows 7 for unlicensed use.
With OA 3.0 confirmed for Windows 8, the question is now what is going to be changed that cause such as big jump in version number. Windows Vista (version 6.0) has OA 2.0, while Windows 7 (version 6.1) has OA 2.1, but Windows 8 (version 6.2) will get OA 3.0. There is rumor that OA 3.0 will undergone major change to disable OEM activation through BIOS SLIC hack, though the exact nature of how activation will be done by OA 3.0 is still unknown (to general public).
So far, the promise by Microsoft to thwart activation crack on its Windows XP, Windows Vista and Windows 7 has been a major failure. It's interesting to monitor how Microsoft will achieve the daunting task of preventing unauthorized OEM activation, while maintaining a seamless activation experience for end users.