Windows Embedded Compact 7 is the seventh major release of Windows Embedded CE Operating System. Compact is a componentized, real-time operating system used to create devices ranging from demanding consumer electronics to critical industrial automation and medical devices such as barcode and RFID scanners, personal navigation GPS devices, digital picture frames, media adapters home media servers, e-readers, gaming devices and etc. The Windows Embedded Compact 7 is compatible with ARM, x86 and MIPS processor architectures.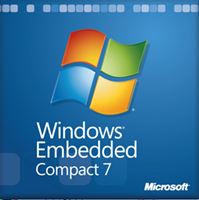 New features of the Windows Embedded Compact 7 includes:
Silverlight for Windows Embedded – gives developers and UI designers the tools to rapidly create declarative, multi-touch user interfaces that are powered by the speed of native code and easy to iterate on device without affecting core development tasks.
Internet Explorer Embedded – integrated Flash 10.1 in browser powers playback of Flash content and Flash content can be run full-screen without browser UI.
Touch, multi-touch and gesture – new multi-touch support adds to existing plug-in engine enabling intuitive, natural input capabilities and gesture-based interactions.
Connection Manager & Windows Device Stage – provides infrastructure technology to manage multiple network transports on the device, allow users to easily transfer media and content between devices and PCs.
Microsoft Office and PDF Viewers – updated applications render Microsoft Office Word, PowerPoint, Excel and Adobe PDF. Includes support for Microsoft Office 97, 2000, 2003, XP and 2007.
As part of promotion of the latest Windows CE Compact, Microsoft has released a 180-day evaluation edition of Windows Embedded Compact 7 for developers to evaluate at .
Here's the direct download links to download the setup installer and documents for the release.
Download Windows Embedded Compact7:
Download Windows Embedded Compact 7 Release Notes: 
However, you will still need to register to get a free product license key to activate the software. The registration key of the Windows Embedded Compact 7 evaluation edition can get from .