Windows Live Essentials wave 4 is the next version of Windows Live bundle of free application programs from Microsoft, which includes the popular Windows Live Messenger (aka MSN Messenger). Windows Live Essentials wave 4 has been in the making (development) for a while, and in fact been released to internal staffs for review. And now, there is leaked early build of Windows Live Essentials wave 4, for the dare souls to download and install.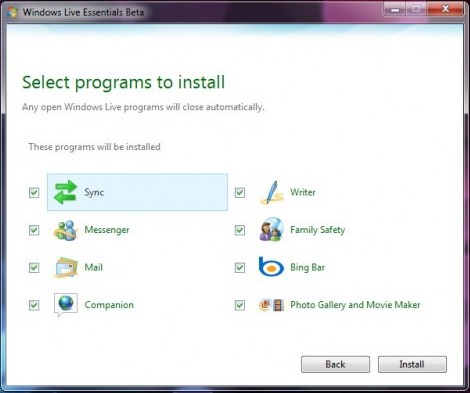 The Windows Live Essentials wave 4 that got leaked to Internet is of milestone 2 (M2), and has the build version number of 15.2.2585.0122. Note that it's not the latest build, as the currently build version compiled by Microsoft has already known to reach version 15.3.2659.319, which is likely to be milestone 3 (M3). Most applications of Windows Live Essentials are been included and updated, including Windows Live Mail, Windows Live Writer, Windows Live Photo Gallery and Movie Maker, Windows Live Sync, Windows Live Companion, Windows Live Family Safety, Bing Bar, and of course, Windows Live Messenger (WLM) version 2010.
Most standalone applications in the Windows Live wave 4 can be used after installation, with the exception of Windows Live Messenger 2010 pre-beta M2 build 15.2.2585.0122 and Windows Live Sync. When users attempt to sign in to Messenger client network, the ability to login is blocked and restricted, and the following error message will happen:
We can't sign you in to Windows Live Messenger. You don't have permission to log into this version of Windows Live Messenger.

Error code: 810003cc

Hacker has managed to come out with a patch that replaces the the installed Windows Live Messenger 2010 pre-Beta M2 version with a patched executable with necessary offset replaced, so that the restriction or blockage of sign in to Windows Live Messenger network is lifted and unlocked. The patch is originally meant for Windows Live Messenger 2009 or 2010 build 15.2.2583.119, but it works on latest leak of build 15.2.2585.0122 and possible all future leaked builds with blocked sign-in too.
User who interested can download the leaked Windows Live Essentials pre-beta (milestone 2) build 15.2.2585.0122, together with the sign in deny auto-patcher. Do note that the program is not officially supported, and is buggy or may cause problem to your system.
Windows Live Essentials Wave 4 Build 15.2.2585.0122: wlsetup-all-m2.zip (with wlsetup-all.exe and authorization.xml)
Windows Live Messenger Sign In Patch: Patch WLM 2010-532.exe
User who wants to replace the msnmsgr.exe directly can also download the patched msnmsgr.exe (version 15.2.2583.119): msnmsgr.exe
According to Windows Live 2010 (WL2010) roadmap, a public beta release of Windows Live Essentials will be made available somewhere in May or June. Here's the brief timeline indication of the development.
April 28 – Selected VIP testers will get access to latest builds
May 18 – Windows Live Essentials 2010 M3 RTW (release to web)
June 3 – Complete Public disclosure
June 7 – Windows Live Essentials 2010 public beta
June 7 – Windows Live Messenger for iPhone released for main languages
August 25 – Windows Live Messenger for iPhone on additional languages will be released, and final RTM RTW of Windows Live Essentials 2010
Update: Official Windows Live Essentials Wave 4 (Messenger 2010) Beta