Microsoft has announced that will begin accepting mobile application submissions from July 27 at its Windows Partners Conference. The Marketplace for Mobile will support Windows Mobile 6.0 and 6.1 as well as the upcoming Windows Mobile 6.5.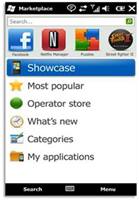 Moreover, Microsoft has also included a separate Business Centre area that will divide its apps into the field of work as well as by the category of app. The model of Marketplace is closely to the iPhone App Store which the developers will receive 70 percent of the sales revenue. The price tag for the application can be zero cost or starting from as low as 99 cents.
At beginning stage, Microsoft will allows the submissions from 29 countries which including North America, most of Europe and Southeast Asian. The store is expected to be open in the fall with about 600 apps ready.
.