On a Windows computer with just a single one account without any password set, the operating system boot up process may stop or stuck at Welcome Screen or Logon Screen after installing VMWare virtualization products such as VMWare Workstation and VMWare Server, requiring end-user to click on the user image to continue to desktop.

Prior to installation of VMWare, Windows can automatically log on the only non-password protected user account on every start-up.
The issue happens on all Windows such as Windows 7, Windows Vista, and Windows XP.
The issue happens because VMWare creates a new user account and group which is normally hidden from view. For example, the user account __vmware_user__ is created after installing VMWare Workstation.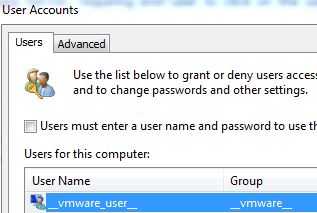 In order for the Windows to auto login to your user account again, end-user can configure and setup Windows to automatically log on to the preferred user account. Here's the link to the step-by-step guides on how to tweak the system to auto-login for various Windows versions.