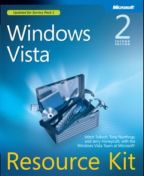 In conjunction of celebrating 25th anniversary, Microsoft Press Books has offered "Free e-book of the Month" program that allows users to simply sign up for the Microsoft Press Book Connection Newsletter for notification of offers, register and download the selection of the month. was given away previous month.

Currently, Microsoft is offers free e-book with title "Windows Vista Resource Kit" written by Mitch Tulloch, Tony Northrup, and Jerry Honeycutt with the Windows Vista Team.
This Resource Kit delivers the information you need to administer Windows Vista that covers:
Use Microsoft Deployment Toolkit best practices and tools.
Plan user-state migration and test application compatibility.
Exploit new Group Policy features, settings, and ADMX templates.
Configure software updates and client-security technologies.
Administer disks, file systems, file sharing, search, and Internet Explorer
Install and troubleshoot printers, devices, and services.
Manage IPsec, IPv6, wireless, and remote connectivity.
Use performance monitoring and diagnostic tools to manage desktop health.
Resolve common startup, hardware, and networking issues.
If you interested then start sign up with your Windows Live ID or register with Microsoft Learning to download.