Microsoft has started to release Windows Vista Service Pack 2 (SP2) pre-beta to selected beta testers. Similar to how the Windows Vista SP1 (download Windows Vista SP1 all language or Vista SP1 5 languages versions) is distributed previously while in beta stage, Microsoft is still using the testers' computer's GUID identification status and a batch command script to release Windows Vista SP2 through Windows Update instead of manual downloading.

The build version number of the released Vista SP2 is 6002.16489 (lh_sp2beta.080924-1740). Before installing Service Pack 2 into Windows Vista, a small hotfix KB955430 Servicing Stack Update will be installed to ensure that the future update and installation of SP2 into all editions of Windows Vista SP2 can be done successfully and without error.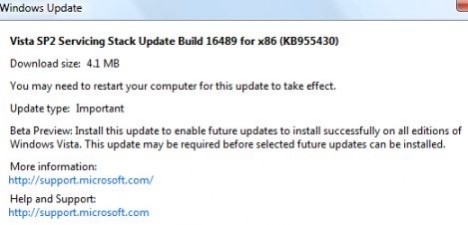 Depending on the editions and features installed on Windows Vista, the size of SP1 pre-beta download can be ranged from 290.7 MB to 296.9 MB.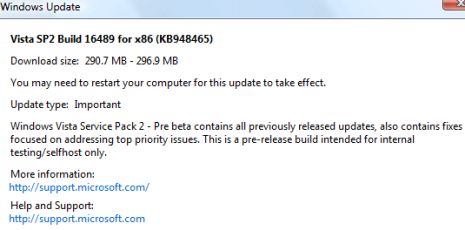 Nothing much nor significant change is expected to change after installing SP2 pre-beta though, as it's only containing all previously released updates, and some fixes addressing top priority issues.
The registry hack to download and install Windows Vista SP2 pre-beta is online.