Posted:
November 30, 2008
/
Under:
Operating Systems
/
By:
My Digital Life Editorial Team
WinRAR has a feature that allows archive creators to lock an .rar archive or SFX executable (.exe) in order to protect the RAR packed or packaged archive from modification and change. When the WinRAR archive locked, everybody cannot change the content in the archive, be it files, folders, comments, SFX options and modules.

However, the protection of RAR archive or SFX executable is not foolproof, as it can be easily unlocked, by just patching a few bytes. WinRAR Unlock is a small utility that does exactly that to unlock WinRAR archive (including SFX), effectively allowing anybody to modify, edit or change the content of archive freely.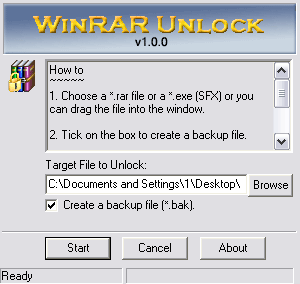 WinRAR Unlock is a freeware with no payment required. WinRAR Unlock can be downloaded, installed and used for free without any cost. No serial number, product key, registration code, crack, hack or keygen required to use the full version program.
Download WinRAR Unlock: winrar_unlock.zip
To recover and break the password of RAR in Linux, use RarCrack.