Most of the time installing software requires administrator privilege so that it allows full control of changing some registry or configuration files. However, it may open up the risk of getting malware or viruses to penetrate into your computer that eventually causing system instability or even hang up. How do you ensure that your computer is protected from being attacked by malware or virus during software installation? Now with WinSecurityGate, it will help to reduce the risk of getting malware or virus infection by blocking several key system functions.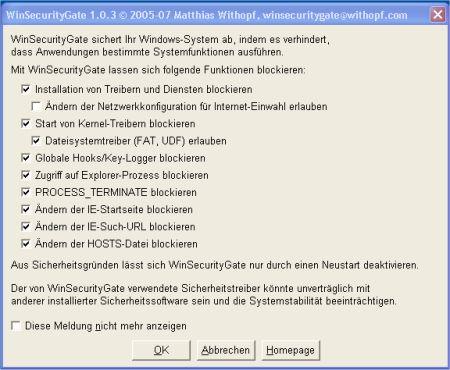 WinSecurityGate is a nifty utility that allows you to block important system functions from being attacked by malware or virus. Those system functions that can be blocked by using WinSecurityGate are like installation of drivers and services, starting of kernel-mode drivers, global hooks/Key-Logger, access to explorer process, PROCESS_TERMINATE, changing the start page of internet explorer, changing the search page of internet explorer, modifying HOSTS file and many more. For normal installation or usage, it rarely requires access to these system functions, and hence by blocking them shouldn't cause any restriction problem or inconvenience while at the same time you can have better system protection to your computer. Besides, each of them can be blocked or unblocked individually and it is up to own preference. To block the system function, you just tick the check box and then click OK button to save it and the change will be effective immediately. However, if you would like to unblock the system function, then you need to untick it followed by system reboot due to security reason.
WinSecurityGate 1.0.5 is absolutely free for download and is compatible to run on Windows 2000/XP/Server 2003/Vista/NT 4.0 SP6. It doesn't require any installation and users can just run the executable file for immediate use. One thing you might need to take note here is the security driver used by WinSecurityGate could be incompatible with other existing installed security software and may potentially impact your system stability.