WinSysClean 2009 is a registry cleaner software for optimizes Windows System by removing temporary or unused files, invalid registry locations, and unused shortcut links to ensures PC maximum performance. WinSysClean uses advanced registry and file analysis techniques to detect useless entries. In addition, WinSysClean also comes with Ultimate Download Manager and integrated Internet Explorer Download Manager.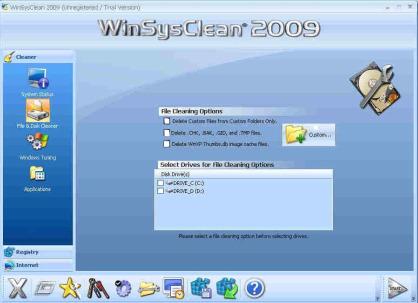 Features of WinSysClean 2009:
A number of clean options can be chosen
Internet Explorer favorites update and clean
Removes invalid COM/OLE registry entries
Cleans the Windows recycle bin
Removes the Windows documents
Deletes Windows fix uninstall files
Deletes the RUN history
Cleans the internet explorer cache folder
Cleans the internet explorer cookies folder
Cleans the internet downloaded files folder, by deleting it's content permanently
Deletes the internet explorer typed URL history
Deletes the internet explorer visited URL history
WinSysClean 2009 normally cost $29.94 for purchase. However, Ultimate Systems has a promotional offer for PC Welt readers to giveaway a free serial number for WinSysClean 2009 (v9.10) to activate full version copy of the software. Interested users now can grab the valid serial number for free by follow the step below:
Visit the promotional page:
Fill in the form by enter your name, email address and click on Weiter button.
Once fill in the form check the email inbox, you will receive a serial numbers for WinSysClean 2009.
Download WinSysClean 2009 setup installer: WinSysClean 2009.exe
Install WinSysClean and enter the serial numbers that is received.
Click the "Finish" button to finish the installation process.
WinSysClean supports Windows 2000, Windows 2003 Server, Windows XP, Windows Vista, and Windows 7.