WinTools.net ultimate is a powerful Windows optimizing utility software that able to removes unwanted files or references from the registry to enhance PC performance. WinTools.net Ultimate Edition comes with easy to use user interface, which users able to access control panel, manage favorites lists, control of the Windows startup process, memory monitoring, and delete browsing history. In addition, WinTools.net ultimate contains tools such as Clean Uninstaller, Scan Files, Scan Shortcuts, Scan Registry, Startup Manager, Tweak UI, Net Tweaker, File Shredder, and etc. to ensure the privacy and sensitive information keep secure.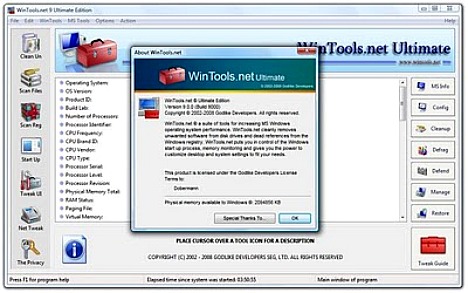 Features of Wintools.net Ultimate Edition:
Clean Uninstaller
Scan Files
Scan Registry
Monitor, add, remove, enable and/or disable individual startup items.
Tweak UI
Full secure deleting documents, programs, and any other files without possibility to restore them.
Improve the speed of data transfer by changing hidden network settings
Memory Booster to monitoring, cleaning and optimizing RAM memory
WinTools.net Ultimate Edition normally cost $39.99 for purchase. As part of WinTools.net promotional offer, interested users are now entitled to grab a free full version license serial code of WinTools.net 8 Ultimate Edition by following the guide below.
To get a free registration license key for WinTools.net 8 Ultimate Edition, just head to the following URL: http://pro.de/aktion/pcwelt/wintools

Enter the name, valid email address, and then click "Senden" button.

Note: Make sure entering a valid email address to received free license code.

An email from "Pro.de" with subject "Aktion PC-Welt Wintools" will be delivered to registered email's Inbox once form is submitted.
Click on the confirmation link, and then another email will be arriving at Inbox with the registration license key.

Download the WinTools.net 8 Ultimate Edition by using direct download link: wintoolsultimate_8.exe

Install the WinTools.net Ultimate Edition and enter the license serial code that received to enjoy free full version WinTools.net 8 Ultimate Edition.

Note: Users can change language with go to dialog box–> optionen–> sprache–> choose English, and click apply, and then restart computer to take effect.



WinTools.net 8 Ultimate Edition supports Windows XP, Windows Vista, and Windows 7.